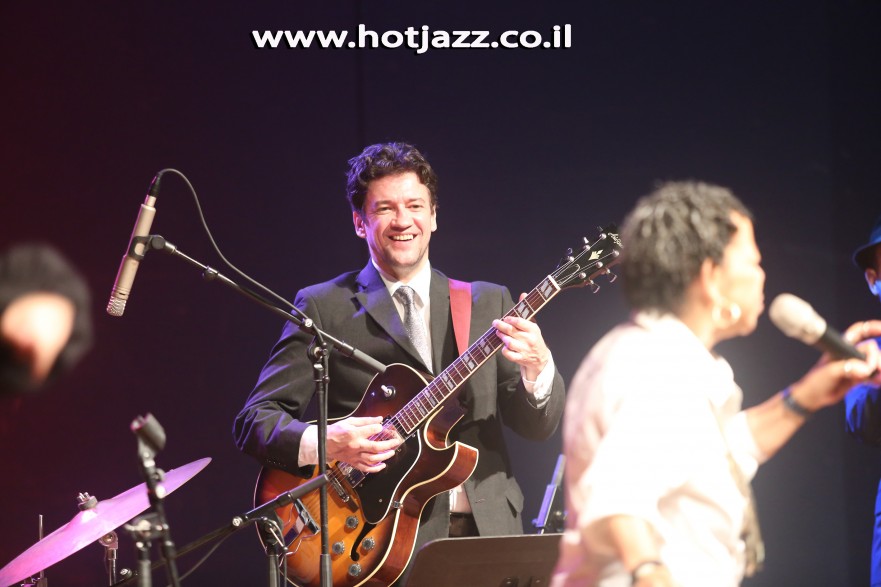 Denny is a self-taught musician specialising in the guitar. He comes from a musical family and prides himself in having an extensive knowledge of jazz history, from it's humble beginnings to the high art of today.
He left school at the earliest opportunity because he knew the greatest education he would ever receive was by playing with and learning from his fathers peers. Denny has been a professional musician for over 25 years and has the good fortune to be able to play in a wide variety of styles and settings at, roughly, 150 concerts/gigs per year. Denny also has a healthy teaching roster and is beginning to expand his career as a writer on jazz and blues history. He is also the artistic director for the Bristol Jazz & Blues festival.
For the past 16 years Denny has been the guitarist and musical director for Lillian Boutte (the Official Musical Ambassador for the city of New Orleans). She inherited this title from none other than Louis Armstrong for whom it was created. Together with Lillian and her band of international musicians Denny travels the world performing at festivals, concert halls, churches, clubs and workshops where he performs a mix of classic jazz, blues, gospel, funk, soul and R&B always to large and enthusiastic audiences.
Denny also works as regular guitarist for saxophonist Pee Wee Ellis who, along with Maceo Parker and Fred Wesley made up the JB's, James Brown's horn section. Denny has performed at many festivals in the UK and Europe as part of Pee Wee's troupe. For the past 2 years Denny has been collaborating with Adrian Utley (from the group Portishead), Will Gregory (from Goldfrapp) and Charles Hazelwood (BBC concert orchestra) on a new score to accompany the 1928 classic silent movie The Passion of Joan of Arc, which has been performed at the Lincoln Centre in New York, the opera house in Krakow, Poland and at the All Tomorrows Partys festival at Alexandra Palace. With this group Denny also performed a 'recreation' of Tubular Bells at QEH in London, Glastonbury festival and St Georges concert hall in Bristol among others.
One of Denny's great passions is to teach and pass on the benefit of years of experience and he has many outlets for this. He currently holds a position as guitar tutor at Clifton College in Bristol where he teaches a mix of styles to a roster of students between the ages of 13 and 18. Every July he runs the blues guitar summer school for the International Guitar Foundation in Bath and Cheltenham.
בחזרה לדף הבית