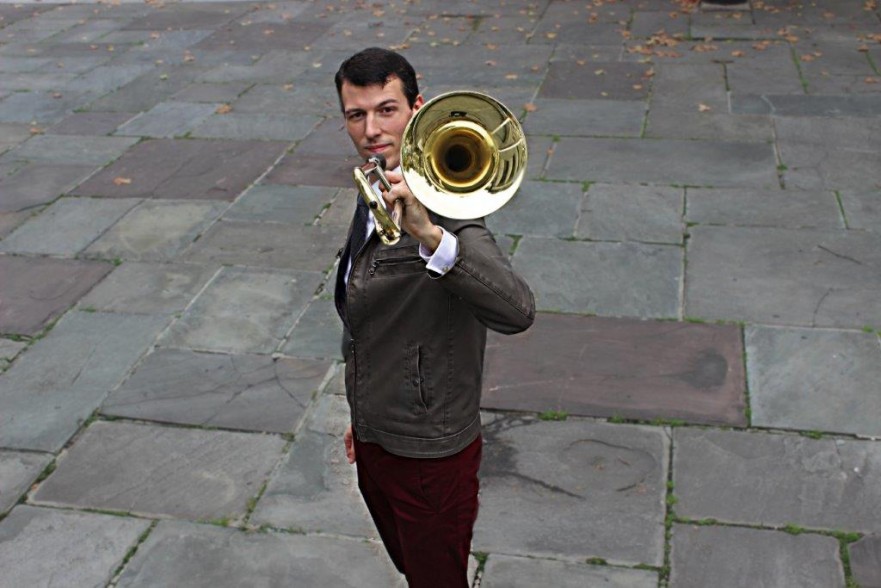 Nick Finzer – Trombonist at The Eyal Vilner Big Band
Nick Finzer is one of the most exciting musicians of the millennial generation.
An award-winning composer, arranger, and trombonist, Finzer is bringing the joy and power of Jazz to both traditional fans and 21st century audiences who try everything from flying off cliffs in specially-designed suits to fugu sushi. He's on a mission to be a passionate voice defining the sound of Jazz in this age, and to bring a little street cred to the trombone, which is a bold, tight sound.
In January of 2013 Nick released his recording debut as a bandleader and composer with "Exposition" (Outside In Music). Two tracks appearing on the album garnered Finzer a pair of accolades: The prestigious American Society of Composers and Performers (ASCAP)'s Herb Alpert Award for young composers (2013 & 2015)
Finzer has been seen across the globe on television and the web millions of times as part of the pop web phenom band, Scott Bradlee's Postmodern Jukebox. He has toured with the group in North America and Europe. His Jazz videos and albums are seen and heard around the world as well.
Famed trombonist and mentor Wycliffe Gordon called Finzer "a new voice [in] the pantheon of upcoming trombone greats in the making" and added "Nick's CD is a glowing example of things to come."
In 2011 Nick was the winner of the Eastern Trombone Workshop's National Jazz Trombone Competition and was a finalist in the 2010 International Trombone Association's Carl Fontana Jazz Trombone Competition.
Born into the musical world (Mom Sherry Finzer is an international flutist), Finzer developed a fascination for the music of Duke Ellington and found himself, in high school, performing at the annual Essentially Ellington competition of Jazz at Lincoln Center. It was then that he decided to pursue a life in music himself. His budding talent was recognized by Wycliffe Gordon who began a life-long mentorship by writing four pieces for the young Finzer while he attended the Eastman School of Music. Nick went on to get his masters at Juilliard's prestigious Jazz program where he was mentored by the trombone legend Steve Turre.
In 2014, Nick composed two new album-length works,. HIs first, "The Chase" debuts in July of 2015 on the Origin Records label, and his "Ten Year Suite," is in performance development and will have a future album release.
Finzer has performed at top Jazz clubs and concert halls with Wynton Marsalis' Jazz at Lincoln Center Orchestra, The Eyal Vilner Big Band, Lucas Pino's No Net Nonet, Bob Stewart's Double Quartet, Frank Wess, Lew Tabackin, Terrell Stafford, Lewis Nash and the Tommy Dorsey Orchestra, Walt Weiskopf, John Clayton, Slide Hampton, Frank Kimbrough, Carl Allen, Ray Drummond, Steve Turre and many more.
בחזרה לדף הבית